Scientific Review Engineering and Environmental Sciences (ISSN 1732-9353 print; 2543-7496 online) is published quaternary by the Warsaw University of Life Sciences - SGGW Press. The published articles are available under the terms of the principles of Open Access Creative Commons CC BY-NC license. It means that for non-commercial purposes available materials may be copied, printed and distributed.
Details
Scientific Review Engineering and Environmental Sciences
ISSN:1732-9353 (print), 2543-7496 (online)
Indexed in:
AGRO(Poznań), BazTech, Biblioteka Nauki, CrossRef, DOAJ, EBSCO, Google Scholar, Index Copernicus, INFONA, PBN, SCOPUS, SIGŻ(CBR).
SCOPUS: 2020 SJR = 0,162; 
MNISW Poland: 20 pt
Index Copernicus: ICV 2019 = 115,81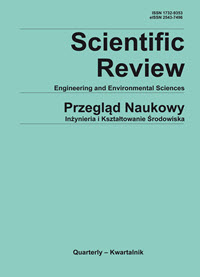 2022: Online First
Published: 2021-11-22
In this folder, we present articles that have successfully passed the review stage and have been sent for publication in our journal. They have not yet been assigned to a specific volume and do not have specific page numbers, but have been given a final DOI number so that they can already be cited in other publications.
View All Issues